Kevin Mongelli is a multi-award winning composer as well as a voting member of The Recording Academy.  He creates and performs original piano music with unexpected insight and intensity.  Additionally, he is an aspiring screenwriter.
Kevin's mother taught him to play a 12 string guitar at an early age.  Then one day as a teenager, he was sitting at the piano and taught himself the chords from the guitar onto the keyboard.   That was a huge revelation for him.  He began to spend hours on end working with chord progressions and learning to play standards with chords and melodies.  As his skills progressed, he began to jot his own ideas down and ultimately created quite a portfolio of compositions.   He studied music at Duquesne University where he earned his college degree.  Mongelli has performed throughout the United States as well as the Caribbean.
Mongelli has currently four released albums:
INSPERATO (July 2014 release)
Ascension (8 original compositions)
Christmas Variations (10 original arrangements)
Fort Lonesome (10 original compositions)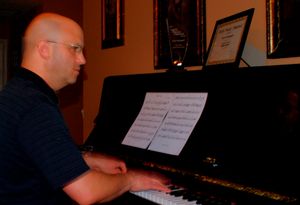 Purchase his music
HERE
or from any major online retailers including
Amazon
,
iTunes
.  TUNE IN on
Pandora
,
Jango
.
Spotify
, and
iHeartRadio
.
COMMENTS from Internet Radio listeners:

"your music is so moving, it brought tears to my eyes!" (Kingstown, Saint Vincent and the Grenadines)

"Your music has a soul that is profound, it's as deep and vast as an ocean. Thank you for bearing your soul for us!" (Colorado, United States)

"your music moved me so far only chopin did like this" (Mexico)

"~~~ Excellent music ... contemplative and soothing! *Ascension* is masterful, for sure. Thank you so much for the listen, and I truly look forward to your future tracks." (United States)

"Nice. A Brilliant pianist and composer." (New Hampshire, United States)
 
"The piece I am listening to is The Sunrise Waltz; it is beautiful, peaceful, evocative, centering, a companion for the journey. Thank you!" (United States)